The Crafty Vintner is your one stop shop for great wines, beers & spirits all year round, and this Christmas is no exception! Shop local this Christmas and check out some of our fantastic Christmas gifting options available from our Lisburn Road store in Belfast!
First up, we have the Quattrocento 4 Bottle Gift Set - beautifully decorated with ceramic crests of each suit of playing cards. Each of these wines comes from a famous Italian region and are made from the prestigious grapes of that region.
Hearts are represented by Primitvo di Manduria Doc. The early harvest of these grapes preserves their fresh and fruity character, producing wines of exceptional quality and flavour. A bold and smooth wine with notes of plum and dark cherry, as well as chocolate and tobacco.
Clubs are represented by Nerello Mascalese. This Sicilian wine bursts open with flavours of red fruit, cherry, strawberry, and redcurrant before leading into notes of cinnamon and start anise. The wine has a pleasing, lengthy finish with fine tannins.
Spades are represented by Toscana Rosso. This dry wine from Tuscany has medium tannins that give way to blackcurrant and plum, as well some earthy, mineral notes.
Diamonds round out the quartet with a Montepulciano d'Abruzzo Doc. This deeply coloured wine retains its acidity well and boasts flavours of black fruits as well as more herbal notes of pepper, oregano, and tobacco.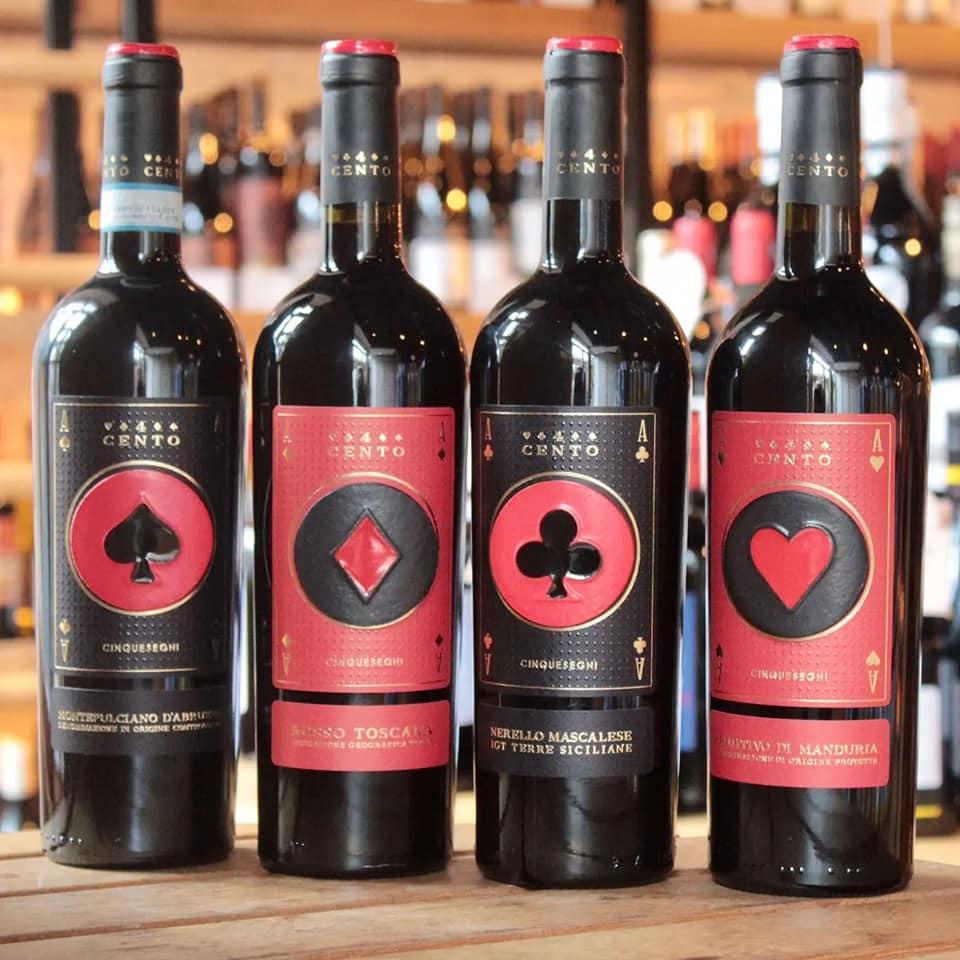 Fantini's Cinque Edizione has been a favourite here at The Crafty Vintner for a while now, so why not embrace Italy and treat yourself or someone you love to a Magnum size bottle, complete with wine lovers kit including foil cutter, waiter's friend corkscrew, wine thermometer, aerating pourer, and a bottle stopper (not that you'll want to use that with such a great wine).
This blend of Montepulciano and Sangiovese from Abruzzo and Primitivo, Negroamaro, and Malvasia Nera from Puglia bring this wine together. A bright, deep ruby colour with perfumes of intense fruit character, blackberry and cherry enriched with aromatic herbs, cinnamon, cocoa, liquorice, and an interesting mineral note. The palate reveals a balanced structure with a lifted, elegant freshness. Soft, supple tannins lead to a long, drawn-out finish. And if that really sounds like you're thing, we've also got the Jeroboam 3 litre bottle too!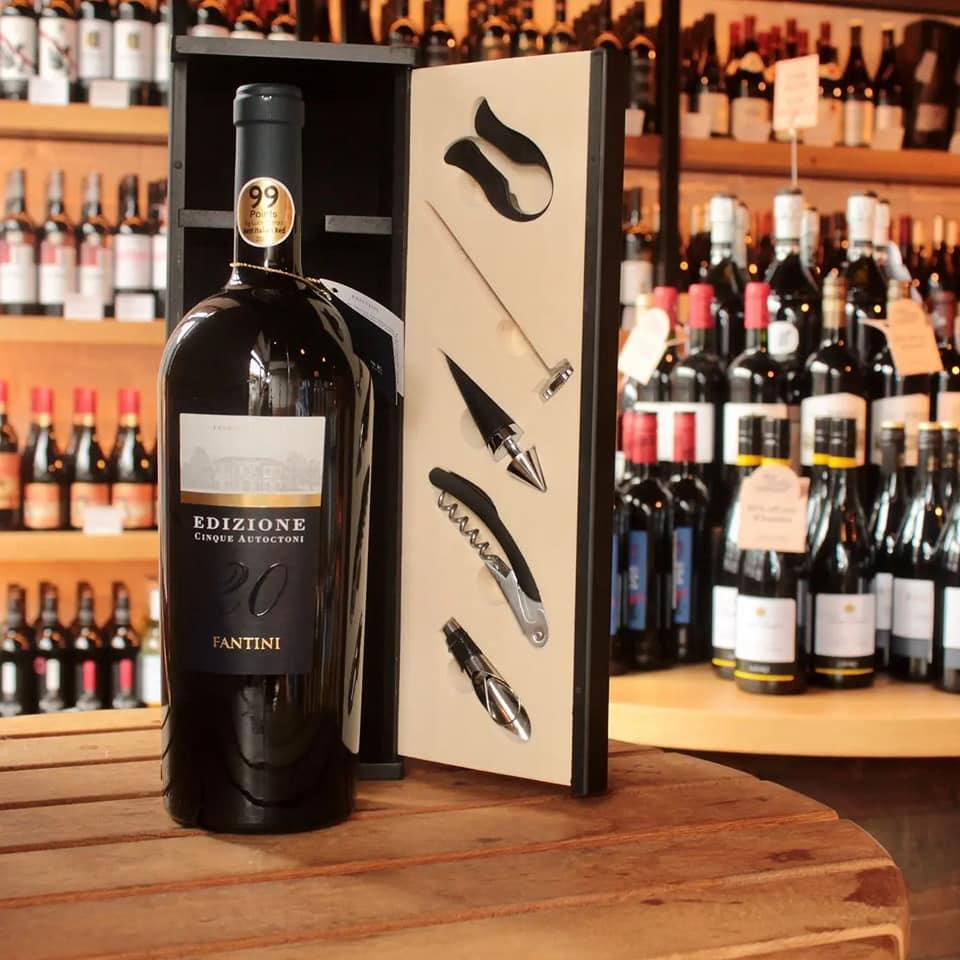 Il Segno by Cinquesegni blends Primitivo, Aglianico, Nerello, Nero d'avola, and Sangiovese from across Italy's premier wine growing regions. The resulting wine is garnet red in colour, with aromas of black fruit and delicate spice. It reveals itself as full-bodied, deep, ripe, round, harmonic and persistent with a final hint of liquorice. Great structure, good balance between alcohol and freshness, velvety tannins. This gorgeous gifting bottle is presented with a hand-crafted ceramic label and gold-plated bracelet. A sure fire hit with lovers of great wine and pretty things.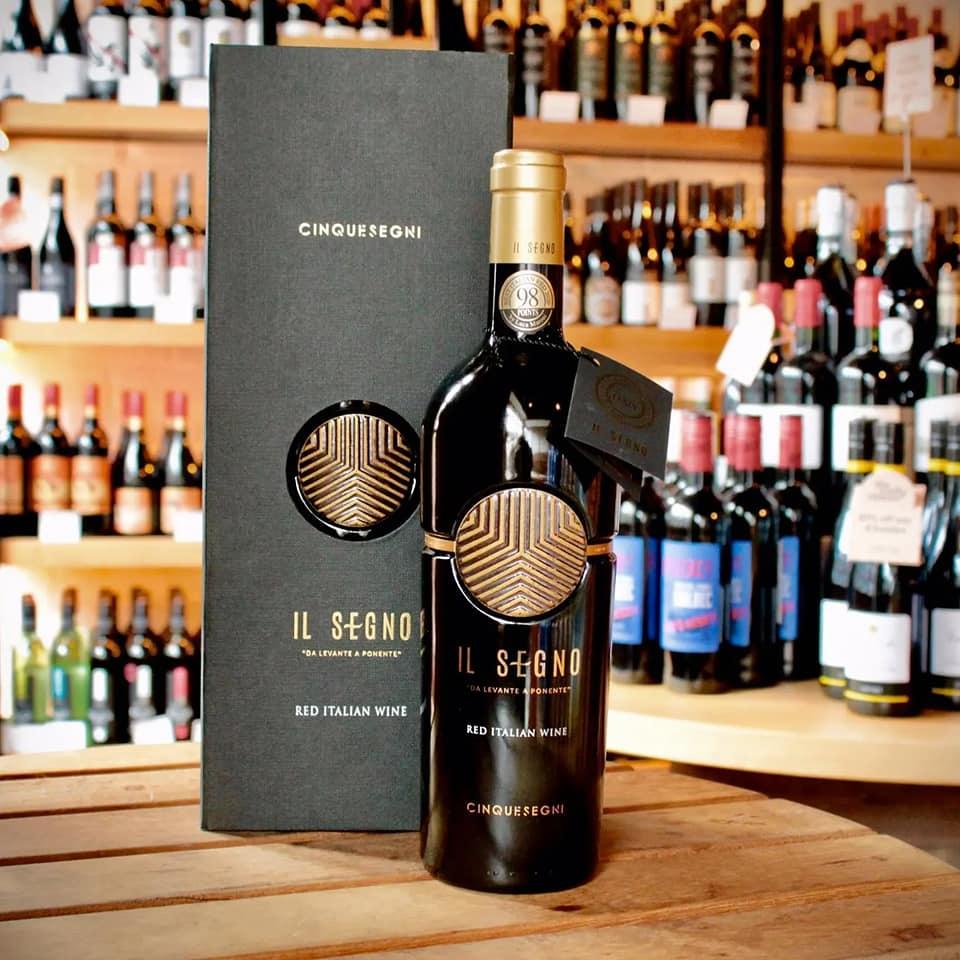 Leggenda Gold Series is an intense ruby red varietal made from old vine Primativo grapes. Pronounced aromas of cherry jam and blackberries marry with notes of tobacco and cocoa. The palate is full bodied, rich, and well rounded with black fruit flavours following through to a fine tannin finish with notes of cocoa, coffee, and vanilla.
We also have the gorgeous Leggenda Vigne Vecchie Magnum 1.5L. Presented in a lovely, black wooden gift box, this wine is sure to be a crowd pleaser. All the same flavour notes as the Gold Series bottling with notes of black fruit jam and sweet tobacco. Aging in French oak barrels for 6 months leads to a nice integration of tannins for a smooth finish.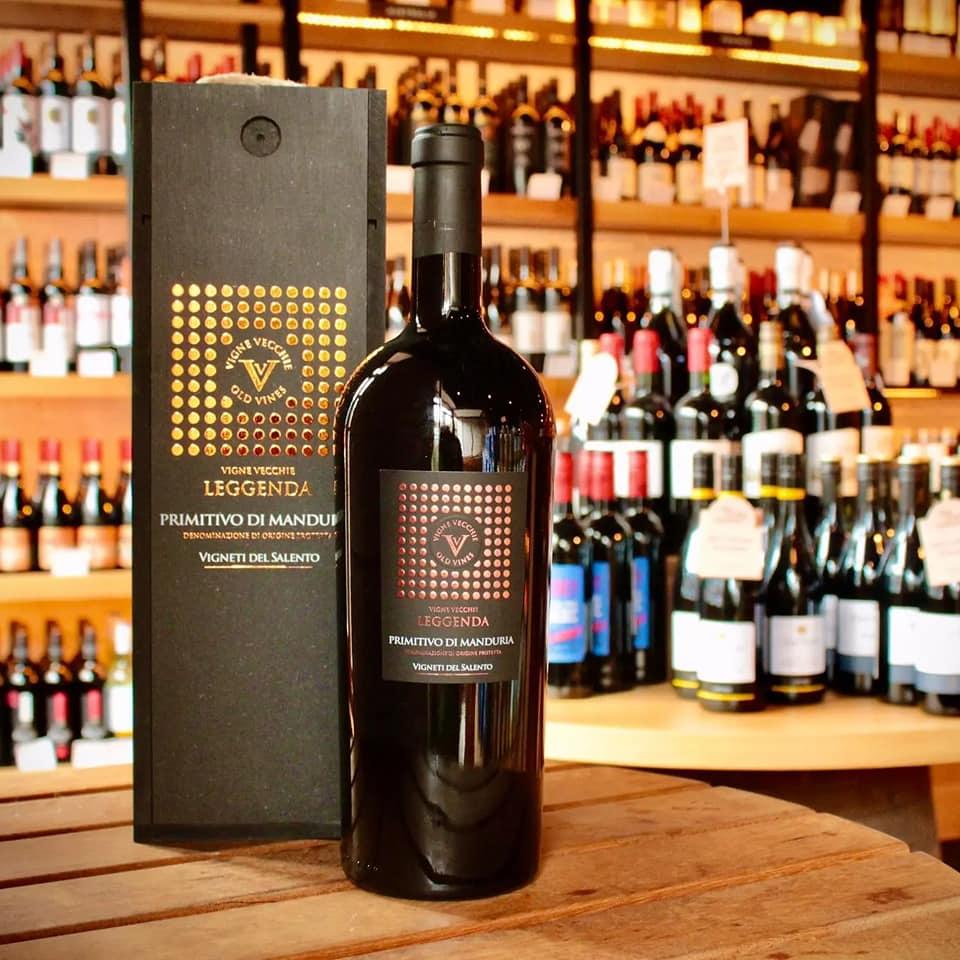 Want some online gifting inspiration? Head to our Christmas Gifting range and send your loved ones the perfect present straight to their door! Delivery throughout NI and Mainland UK. We've got festive Wine Mixed Cases, a fantastic selection of Irish Whiskey & Ginsand lots of Sparkling Wine and Champagne
We're here to make your life easier this Christmas!